As we celebrate our 10th year in business, Advantec's founder and Managing Director Andrew Brittain reveals our new image and focus as a business…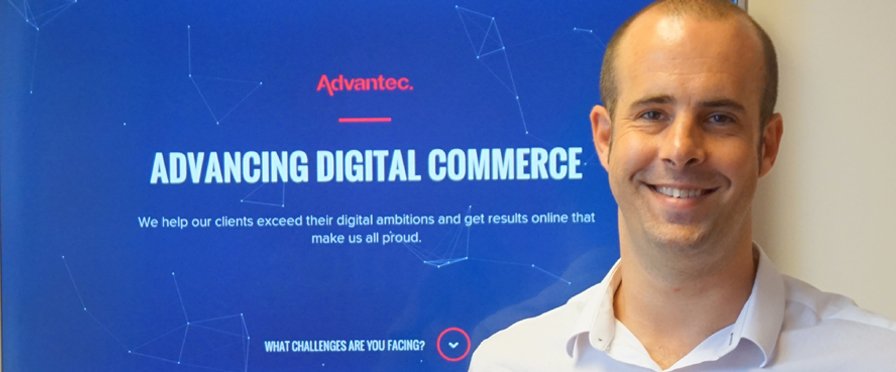 We're proud to this week reveal a brand new website for our digital agency – one which represents a new chapter in the journey of our business.
Our previous website was years old and no longer accurately represented what we do as a business and who we really are as a team. Given we spend all our time designing and building websites for clients, our own site had fallen to the bottom of the priority list and become neglected and dated – and not exactly a great example of us practicing what we preach!
Not only do we have a stunning new site – one which we can be truly proud of – we've also taken the opportunity to update the messaging and focus of our business and brand, placing more emphasis on our track record of ecommerce design, build and marketing.
Focussing on what we do best
We've been working hard developing our own brand messaging over recent months and thought carefully about what it is we love doing the most and are most successful at. The result was no surprise, as the vast majority of our work over recent years has been focussed on helping clients sell online, so this brand refresh simply brings our external image in line with what we've been doing with our clients for years anyway.
Our greatest strength has always been helping clients with digital commerce, which can involve anything from selling holidays, museum tickets, getting charity donations or selling car insurance online – to traditional consumer retail selling clothes, furniture and electronics. Our new image and website helps us convey this specialism much more effectively than we've ever done before.
Doing what makes us and our clients happiest
April 2017 marks Advantec's 10th birthday and seemed like an ideal milestone for us to look back and reflect on what it is about our business that we've enjoyed most over the last decade – and how we want that to influence the future growth of the company.
One theme that kept cropping up was that of our satisfaction in – and love for – helping clients be successful. One thing that makes us happier in our work than anything else is when our clients exceed all the ambitions and targets they set with us for their digital performance.
We wanted our new image to portray that ethos – one that means when our clients are successful, so are we, so we are fully committed and invested in their success as individuals and organisations.
We hope you love our brand new website – take a look around and feel free to email me (andrew@advantec.co.uk) to let me know what you think!