At Advantec, we're like an excitable bunch of puppies when it comes to Christmas. We had to resist putting the tree up in November (apparently it's not the 'done' thing)…
As soon as the John Lewis Christmas advert was released (Christmas basically begins when we see this on our social media), our Marketing Executive Jocelyn asked the team five questions relating to the festive holiday period.
Prepare yourselves for some odd answers about our favourite Christmas traditions.
Let's ease you in with a picture of our actual office puppy…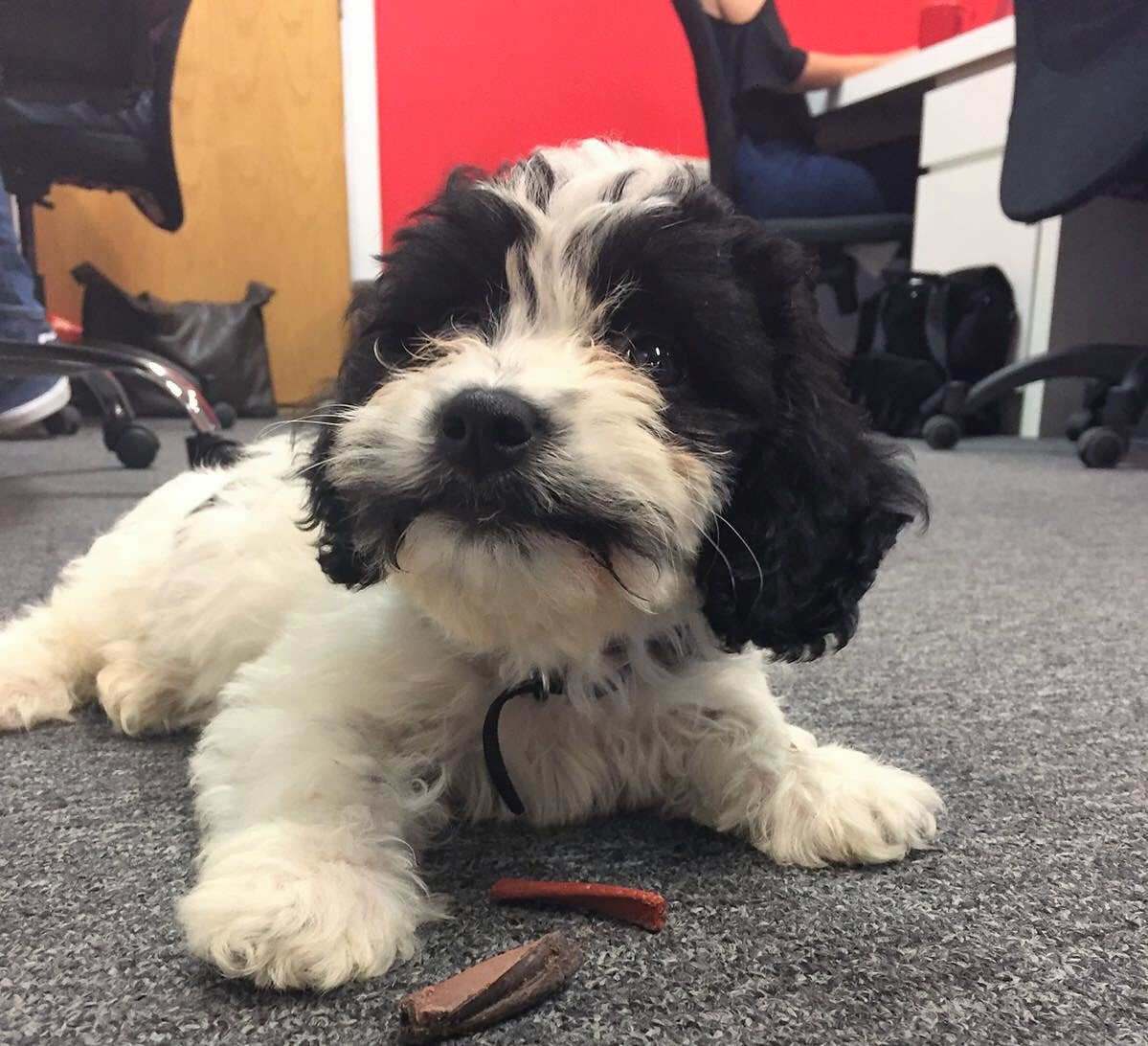 What is your favourite Christmas movie?
Andy: ELF obviously!
Loz: The Muppets Christmas Carol.
Elly: Second that Laurence! What is better than Michael Caine singing along with puppets?
James: Die Hard obviously!
Loz: Yeah, Die Hard is a good shout.
Andrew: Probably The Grinch (Jim Carrey version, obviously), not because I'm anything like the Grinch in any way! It's just funny and I love the 'Christmas doesn't come from a store' message.
Joe: National Lampoon's Christmas Vacation. Possibly the best Christmas movie out there.
Emma: I just want to point out that no one has even mentioned Home Alone 2…
Joe: Isn't the first Home Alone basically the exact plot of Die Hard?
Sam: It's A Wonderful Life – one of the best films ever, let alone Christmas films.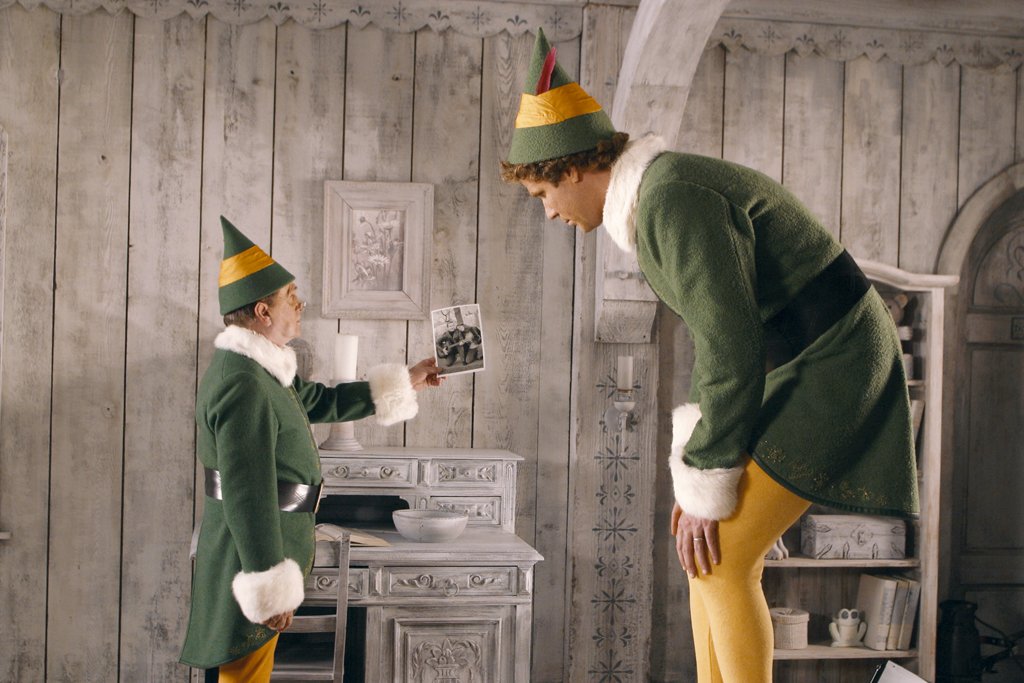 What day/week do you usually put up your tree? No Bah Humbugs, please…
Loz: It goes up when Rosi (my partner) tells me to do it…
Sam: We have a whole weekend set aside for tree shopping and decorating. Jules (my husband) is really excited this year and (get this…) invited his folks over on the 3rd of December to enjoy a glass of fizz for our "Christmas Light Switch On".
Jocelyn: Sam, why weren't we all invited to this 'Switch On' too?
Emma: 1st of December!
Chris: Doesn't everyone put theirs up on the first weekend of December?
Andrew: I have a battle every year to prevent the tree going up until 1st December, which I just about manage to win most years, although Bev (my wife) has me up in the loft on the night of November 30th getting it down – and the accompanying 8 boxes and 9 bin liners of decorations (not even an exaggeration!) that she insists on covering every inch of the house with!
Jocelyn: I'm with Bev on this, Andy! As soon as my partner allows it to go up, I'm straight on it!
Elly: I normally put it up much later in the month, but I got most of my Christmas shopping done in November and I need a tree to put them under…
Amanda: That's efficient Elly! In our family, it varies every year, but we try to aim for the 16th or 17th of December.
Kelly: Ordinarily the closest Saturday to 1st December as possible, but Ava (my daughter) is definitely going to pull it down, so possibly later this year.
Jocelyn: I feel your pain Kelly, my cats are usually the problem, and now we have a puppy, it becomes a much bigger problem.
Emma: I can relate…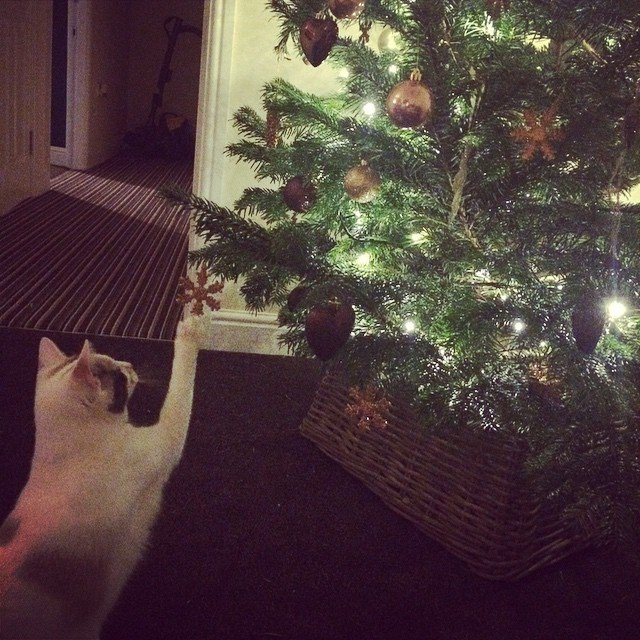 (Above: Emma's cat getting very involved in Christmas preparations)
What time do you get up/out of bed on Christmas day?
Samantha: Early! Got to get the oven on and ready for the Turkey! Start roasting the giblets for the gravy: the longer you cook them, the better the gravy!
Jocelyn: I love the word giblets…
Elly: Ummm, I don't get out of bed until 09:00/10:00 am these days… Nut roasts don't need as much preparation!
Andrew: When I was a child it was 4 am as standard. My mum would let us open our stockings and then we had to wait back in bed for what felt like forever before we were allowed downstairs. Now we've got four kids of our own, you'd think Christmas mornings would be a killer, but believe it or not they're never even awake before about 7.30!
Emma: Always early. There are presents to unwrap! I cooked a roast for 8 people last year so I had to be up extra early!
Loz: Wow, good work Emma! I'm expecting an early start this year. My guess is 06:00 am. Indira (my daughter) will undoubtedly silently creep into my bedroom, stand by my face and start talking like I'm wide awake.
Joe: My sister and I used to wake up at 4 am and we would run upstairs and excitedly show our parents what Father Christmas had left us to our exhausted, patient parents. Nowadays we stay around our folks for Christmas Eve and are all invariably hungover on Christmas Day and it's our parents that come and wake us up excitedly, Dad has the Bucks Fizz on hand and Mum cooks up salmon scrambled eggs for those who want in!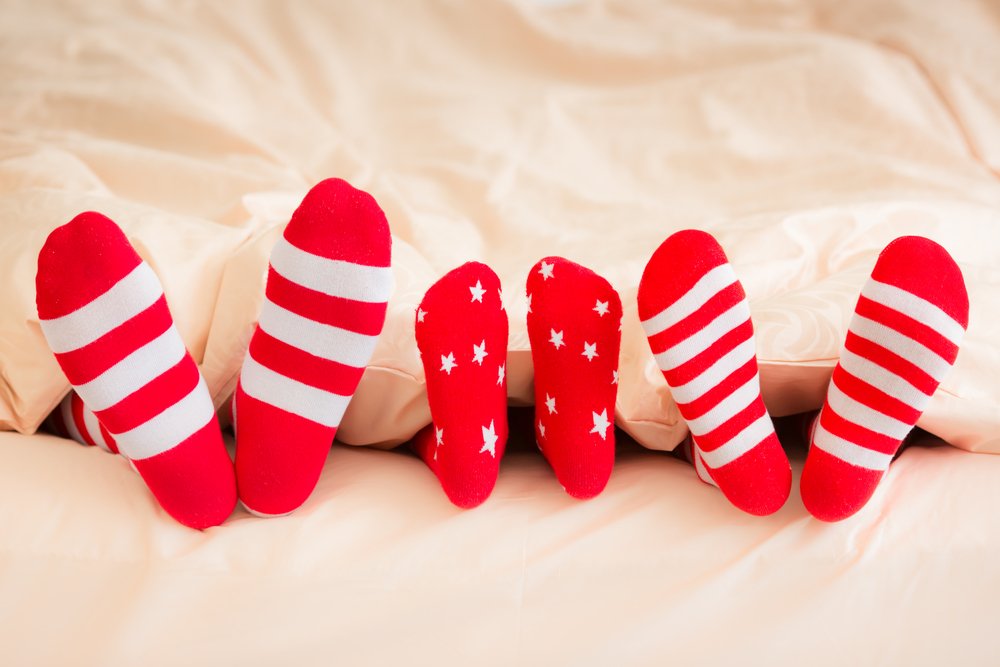 What is the best Christmas present you've ever received?
Loz: My brother once got a remote-controlled helicopter. He took it outside, started it up and the helicopter just didn't listen to anything from his remote controller and POOF it disappeared into the sun, never to be seen again. That was quite good.
Emma: I'm inclined to say, whoever sold these helicopters knew that this would happen and are a Christmas Scrooge!
Elly: When I was 10, my Grandparent's Christmas gift to my sister and I was a trip to Disneyland – definitely the best present I've ever been given!
Emma: The one that sticks in my head is when I was 3, I got a tricycle and a teddy. I sat on my tricycle cuddling the bear for the rest of the day.
Samantha: You still have the bear right, Emma?
Emma: Yes of course.
Samantha: My best Christmas present was a bike. It was so kick-ass: it was purple and neon pink and the hubcap had dolphins and turtles on it. I didn't put it on my list, as I knew it was too expensive… On Christmas morning my parents said "Wait a minute, Father Christmas has moved the sofa! What's that behind it? Another present?…" Tucked behind the sofa was a huge present… it was my dream Dolphin bike. I don't think I've ever been happier.
Andrew: Second that Sam! Mine was a mountain bike, that I was given when I was 13, which started off my love of downhill mountain biking, a love of which I still have to this day.
Jocelyn: I love hearing everyone's Christmas traditions and I have to admit, I don't usually open my presents until boxing day…
Elly: That's what boxing day is for traditionally!
Samantha: JOCELYN, I'M CALLING CHILDLINE.
Joe: My Dad told me a good parent tip for filling stockings, he had two identical ones and they would fill one and leave the empty one on the bed and would do a swap, genius!
Andy: Why would your Dad know that Joe, when it's Santa's job? Are they friends?
Joe: Haha! Damn, you're right!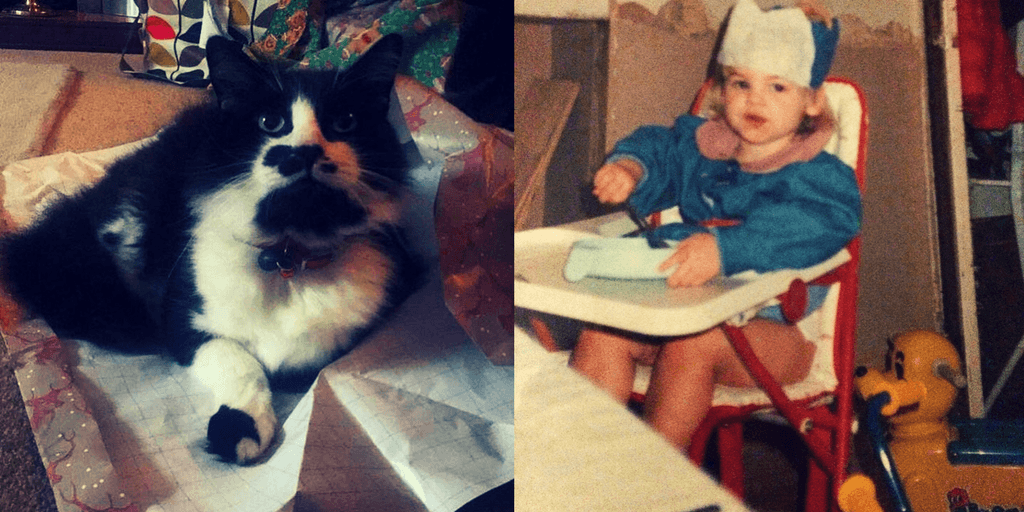 (Above Left: Elly's cat helping to wrap the presents!)
(Above Right: Emma taking a break from her beloved tricycle, as seen in the background…)
Last, but not least guys: What is your most embarrassing moment at your work's Christmas party? Keep it PG guys…
(Worried looks and silence in the office…)
Jocelyn: Okay I'll start… I had been drinking since 11:30 am. We had our work meal (which was supposed to sober me up) and all 30 of us ended up in Aruba in Bournemouth. Halfway through the night I thought the men's toilets was the ladies, so made my way in like nothing was wrong and I started shouting at every man that came in… I was shortly escorted out.
Joe: The most embarrassing part of a work night out is the following day, dying from a hangover and post night out anxiety at my desk
Emma: I ended up in A&E on my last work do…
Andy: Doing the twist with our old Client Services Manager, it was an eyesore.
Samantha: I took our biggest client out for a Christmas meal and drinks and set my hair on fire with a candle.
Emma: Hahaha! These are brilliant…
Samantha: Absolutely stunk the place out. We had to leave the restaurant. I didn't even know it was happening until the client started pointing and screaming at me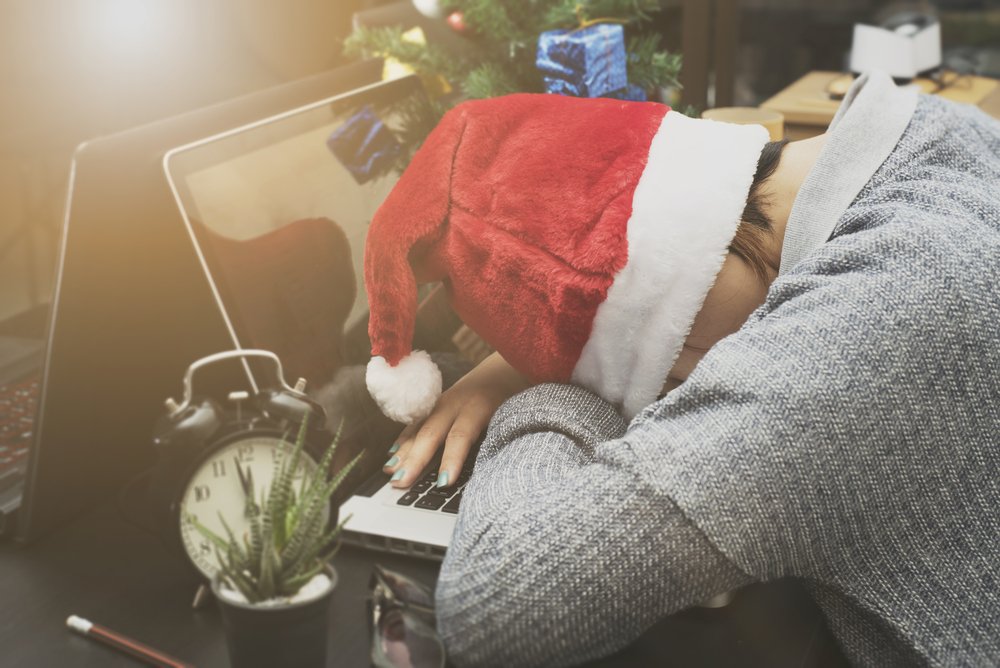 Well… There you have it, our team's Christmas traditions! How do yours compare?