What can you do if you have a business (or indeed personal) Twitter account – but someone else has the Twitter username that you really wanted? You may be surprised at how easy it can be to claim a Twitter username from someone else…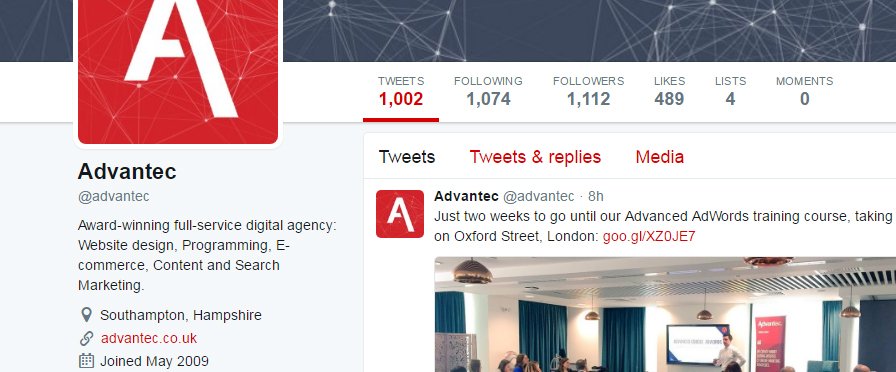 We had this exact scenario ourselves – our company name is 'Advantec' but the Twitter account @advantec was not available. It left us fishing around for alternatives, with the only suitable option being the awkward sounding '@AdvantecIntSrv'.
We used @AdvantecIntSrv for a couple of years – before noticing that the actual @advantec account was in fact completely dormant – with no followers, no tweets – and no activity whatsoever on the account. In these cases, Twitter has a little-known procedure that allows you to take over dormant Twitter accounts that appear to be 'impersonating' your brand.
This is the exact procedure we followed – and it worked for us (you'll see our Twitter account is now https://twitter.com/Advantec).
First you need to establish that the target account is dormant and inactive – i.e. someone has probably registered it purely for the sake of squatting on the name, or perhaps they've gone out of business or abandoned Twitter completely. Either way, if they have few, if any, followers, tweets or following activity, chances are Twitter will consider the account inactive. Here's Twitter's definition of an inactive account: https://support.twitter.com/articles/15362-inactive-account-policy
You will then need to submit an 'impersonation claim' to Twitter, via this form: https://support.twitter.com/forms/impersonation. In the 'description' field, we wrote: "This person has a dormant Twitter account that has never tweeted and is simply 'squatting' on the Twitter account name". We also made sure the email address entered in to the form was on our company domain – proving that we were who we said we were.
We received an instant automatic response – and then waited about 3-weeks before acknowledgement from Twitter that the target account was indeed inactive. The email from Twitter simply asked us to confirm, by email, our old Twitter account name that we wanted to replace.
Another 2-weeks later, confirmation arrived by email that our account had been shifted over to the new username. That was all there was to it! Just two emails to Twitter and the dormant username was ours!
Conveniently, there's nothing more you need to do. No need to inform your followers – everything is updated completely automatically. The only change you'll need to make is on any links that appear on your own website (your old account name will be instantly de-activated).
If you're successful, you may want to go back to Twitter and re-register your old account name, just to avoid anyone snapping that one up!
And a lesson to bear in mind from this is to make sure you log in to your Twitter account at least once every six months, or you risk someone else doing the same thing to you!
Found this information useful? Please share it on Twitter:
Click to tweet this article to your followers: Tweet

For more useful advice for website owners, follow us on Twitter now: https://twitter.com/Advantec